Food-Info.net> Topics > Food allergies and intolerances
Almond Allergy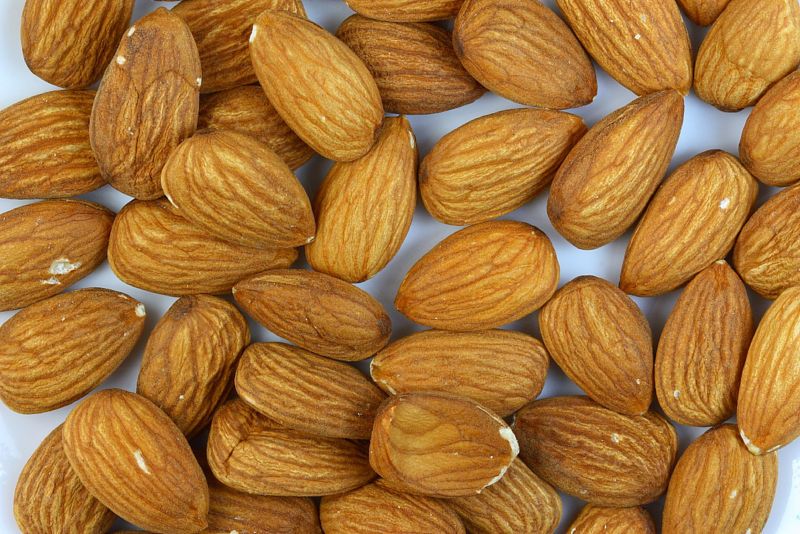 Source
Information provided in co-operation with the Informall project.
Almond (Prunus dolcis, synonym :. Amygdalus communis) is considered as a tree nut although almond belongs to the family of Rosaceae that also includes apple, pear, peach, cherry, plum, nectarine, apricot, and strawberry. Many processed foods may contain almond for example sweets, snacks, baked goods, ice cream, chewing gum, drinks (almond milk), curry.
Symptoms
Severity of almond-induced allergic reactions ranges from slight oral allergy syndrome (itching at the mouth and/or tongue soon after chewing and ingesting the fruit) to severe and even potentially fatal systemic reactions (anaphylactic shock; hives and swelling of the throat, asthma). Severity of allergic reactions depends on which protein(s) in the almond that the patient has become allergic to.
Who, when, how long, and how often?
Tree nuts are considered as one of the most frequent causes of food allergy, but almond allergy seems rather unusual. No good data for occurrence of almond allergy are available. In the United States and in the United Kingdom the frequency of tree nut allergy as a whole is estimated to range between 0.2% and 0.5% both in children and in adults. Tree nuts allergies appear early in childhood, but in Mediterranean countries sensitization to heat-resistant proteins may appear in adults. It is presently unknown whether allergic patients may become tolerant after some years of avoidance.
Related foods (cross reactivity)
Several types of almond-allergic subjects can be distinguished:
Patients with birch pollen allergy
In these patients almond allergy is the consequence of cross-reactivity (similarity) between pollen allergens and similar proteins in vegetable foods. As such proteins are rapidly destroyed in the stomach this kind of food allergy is generally mild: in most cases oral allergy syndrome is the only allergic symptom. Moreover, these patients tolerate heat-processed almonds because allergens are heat-labile.
Patients primarily allergic to tree nuts
Allergenic proteins responsible for this type of allergy are heat-stable and resistant to digestion in the stomach. As a consequence, patients reacting to these protein may experience severe allergic reactions. It is very important to be aware that severe reactions may occur on the first exposure to a nut in patients allergic to a different nut. Unfortunately, the cross-reactivity among tree nuts are very variable both in real life and when measured in blood samples. Thus, it is extremely important that patients with a history of severe allergic reactions to a tree nut avoid the ingestion of other nuts until the absence of reaction to almonds has been unequivocally demonstrated by properly performed diagnosis. Cross-reactivity between tree nuts and peanut is frequently observed on skin tests or in blood samples due to the presence of similar proteins, but actual clinical cross-reactivity is rare.
Patients allergic to peach and other Rosaceae
These patients react primarily to a heat-stable protein (LTP) present mainly in Rosaceae but also in most other plant-derived foods. LTP is a widely cross-reacting allergen. Most LTP-allergic subjects have a history of peach allergy (OAS and/or more severe reactions), and about 25% report reactions eating almonds. Allergy to other tree nuts is possible in these patients. LTP is heat-stable and resistant to digestion in the stomach; as a consequence allergic patients may potentially experience severe allergic reactions.
Patients allergic to latex
Some cases of almond allergy have been reported in patients allergic to natural rubber latex. However such association does not seem typical nor frequent.
Diagnosis
Skin tests with fresh food are generally considered the best in-vivo method to detect walnut allergy, although commercial extracts may prove equally sensitive in patients sensitized to stable allergens. In vitro tests (RAST) are generally also sensitive. Due to the severity of allergic reactions induced by tree nuts oral challenge tests are rarely performed.
Avoidance
Almond may be present as a "hidden allergen" in commercial food preparations; a case of almond-induced anaphylaxis due to the ingestion of curry is described. Due to possible cross-reactivity, almond-allergic patients should avoid other tree nuts, such as hazelnut and Brazil nuts, unless their good tolerance has been clearly proven by reliable tests.
Other languages
almond

amande

Mandeln

amandel

almendra

amêndoas

миндаль

mandel

mandorla

αμύγδαλο

badem

mandle

mandľa

mandler

migdał

migdală

mandelj

manteli

mandel

badem

бадем

bajame

бадем

mandula

mandele

мигдаль

migdolas

mandel

Мігдалы

Бадем/badem

mandla/möndlur

שקד

lewż

Նուշ

ნუში

胡杏树,胡杏仁

アーモンド

ถั่วอัลมอนด์

الجوزة

بادام

아몬드

होडे बदाम

kungu, lozi

بادام

Бодом

Бадам
More information