Food-Info.net> Questions and Answers > Food products > Dairy products
What is skyr?
Skyr is a non-fat milk product that has been a component of the Icelandic diet since the 11th century. It was the food of Vikings, and has since been one of the most popular foods in Iceland. It is rich in proteins and vitamins, while at the same time low in calories, and is served in a variety of ways. It has a soft and creamy consistency and is often served with a mixture of milk and cream, like sauce on a pudding.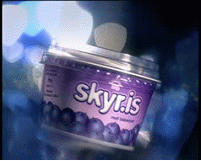 Skyr is produced from skimmed milk or spray dried skim milk powder. The skimmed milk is heated to 90-95°C and kept at that temperature for 30-40 minutes, after which it is cooled to 43-40°C. Some amount of fresh skyr is mixed with a fivefold amount of cool skimmed milk or clean, cold water. When the mixture is smooth cheese rennet is added and the mixture poured into the container of hot skimmed milk at 40°C and stir thoroughly.

The final mixture of cheese rennet, fresh skyr and skimmed milk must be kept at a temperature of 43-40°C for four or five hours; the curd then becomes smooth on the surface – fine and firm – with a bit of yellow whey. The curd must then be cooled quickly to prevent it from becoming too acid, and stored overnight. The following morning the curds are put on a filter for 24 hours to drain the whey. The skyr solids that remain should be approximately 18-20% of the total. The grade of acidity should be pH 3.8-4.

For 22 pounds of skimmed milk use 3.5 ounces of fresh, strained skyr and two drops of rennet. This should make about 4.4 pounds of skyr. Another method of separating the whey from the curd is to use separators built for quark production.

Skyr has been a popular infant food for centuries, and still is. It is also Iceland's most popular fast food. Producers have answered the call of modern times by producing skyr in a variety of flavours and convenient packaging. To increase the health value of skyr even further, berries, fruits and various types of grains have been added.
Sources:
www.icelandtouristboard.com/art8w.html