Food-Info.net> Questions and Answers > Food products > Wine
What does the code on my wine bottle mean ?
Nowadays nearly every bottle of wine has a unique International Standard Wine Number (ISWN). The International Standard Wine Number is the worldwide standard that uniquely describes any bottle of wine with a single code.
The ISWN number is allocated by the ISWN Organization on the basis of a global reference database of wine producers and wines worldwide.
The format of the ISWN or ISWN-B is a string of 23 characters.
It is a series of sub-codes, each representing a key characteristic of a bottle of wine:
country
CCC -

region
RR -

producer
PP.PPP -

wine
WWW /

vintage
YYYY -

volume
VVVV -

special
B / X
Practical example
From ISWN #71009002180011996007500, we can derive that it is a standard 75 ml bottle of South African Cabernet Sauvignon by Thelema Winery, 1996 vintage.
The ISWN is composed as:
| | | |
| --- | --- | --- |
| | 710 | is South Africa |
| | 710-09 | is regio Stellenbosch |
| ISWN-P (producer code) | 710-09-00.218 | is Thelema Winery |
| ISWN-W (producer/wine code) | 710-09-00.218-001 | is Thelema's Cabernet Sauvignon |
| ISWN-V (producer/wine/vintage code) | 710-09-00.218-001/1996 | is the 1996 vintage of this wine |
| ISWN-B (bottle code) | 710-09-00.218-001/1996-0075 | is a 75 ml bottle |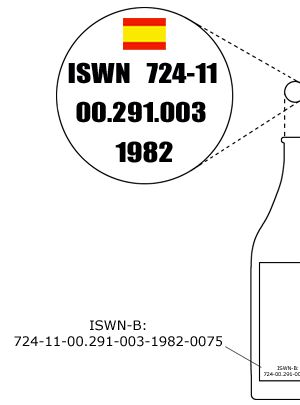 For more information, see the ISWN webpage : http://www.iswn.org