Food-Info.net> Questions and Answers > Food ingredients > Aroma components
What is citral ?
Citral, also known as geranial (citral a) or neral (citral b), occurs in the volatile oils of lemon grass, lemon, orange, limetta, and pimento. It is one of the main characteristic flavours in the citrus family besides limonene .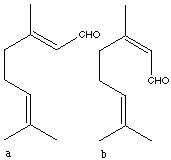 Structure of citral a (geranial) and b (neral)
Citral (C10H16O) is used in lemon and citrus flavours in confectionary, soft drinks and in many cosmetics, such as after shaves and body lotions. The flavour of geranial is more intense than the flavour of neral, but both have a very similar lemon flavour. Citral is also used in the chemical synthesis of vitamin A, but has no vitamin activity.
Citral is not or poorly soluble in water, but readily soluble in alcohol or oils.