Food-Info.net> Questions and Answers > Food ingredients > Aroma components
What is menthol ?
Menthol is a terpenoid, found in the essential oils of the mint family (Mentha spp), such as peppermint, spearmint and others. Menthol (C10H20O) is solid at room temperature, forming long crystals that have a fatty touch. Several isomers of menthol exist, some with a menthol smell, others without. Normally occurring menthol, with the strongest smell, is (-)-menthol (lower left in figure below).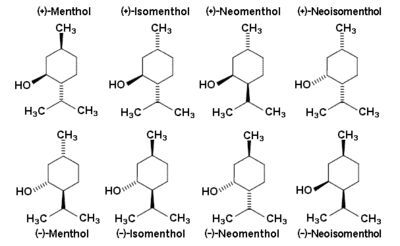 Structure of menthol and isomers
Menthol is not or poorly soluble in water, but readily soluble in alcohol or oils.
Besides the use as an aroma in many different food products (especially dental products, such as chewing gum, cough drops and confectionary, such as mints), menthol is contained in non-prescription products for short-term relief of minor sore throat and minor mouth or throat irritation, for example in lip balms and cough medicines. It is classed as an antipruritic, which reduces itching. Menthol is also contained in combination products used for relief of muscle aches, sprains, and similar conditions, as well as in decongestants. In addition, it is used as an additive in certain cigarette brands, both for flavour and to reduce the throat and sinus irritation caused by smoking. Menthol also is a common ingredient in mouthwash.