Food-Info.net> Topics > Food allergies and intolerances > Shellfish
Mollusc (shells) Allergy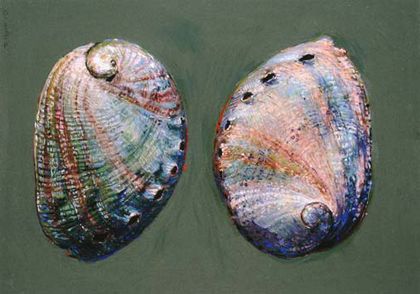 Source
Information provided in co-operation with the Informall project.
Molluscs include many of the most important seafoods such as abalone, clams, mussels, octopus, oysters, squid, and scallops as well as terrestrial snails. Marine molluscs and crustacea (shrimps, prawns, crabs, crayfish and lobsters) are both known as shellfish. There is a sharp legal distinction because annex IIIa of the new EU labelling directive makes the listing of crustaceans and crustacean products on labels mandatory but does not currently specify labelling molluscs. There is a clear biological difference between molluscs and crustacea but some limited cross-reactivity has been reported. Thus shrimp allergic individuals are more likely to react to molluscs than to an unrelated allergen such as a plant food.
Molluscs are eaten all over the world but the species eaten and the quantity consumed differs greatly from region to region. In many countries molluscs are eaten occasionally rather than as part of the staple diet. Southern Europe, especially Spain, consumes more cephalopods as calamari and shellfish such as mussels than Northern Europe. The coastal regions of Asia are also major areas of mollusc consumption which are often included in Chinese dim sum, soup and rice porridge, making molluscs important hidden allergens in those dishes. More squid is consumed than any other seafood in Japan. Terrestrial snails are mostly eaten in France, Italy, Spain and Portugal.
Symptoms
Adverse reactions following the ingestion of molluscs are similar to those reported for allergic reactions to other foods. They range from mild oral allergy syndrome (itching of the lips, mouth, or pharynx, and swelling of the lips, tongue, throat, and palate), through urticaria (hives), which is probably the most commonly reported symptom, to life-threatening systemic anaphylaxis (difficulty breathing, drop in blood pressure, and even death). Symptoms may involve the skin (itching, swelling), the gastro-intestinal tract (nausea and diarrhoea) and also respiratory symptoms (asthma, rhinitis). Most reported symptoms occurred within 90 minutes of ingesting the food. However, delayed reactions have been reported. The symptoms reported following the ingestion of molluscs may be unusual in two ways. Firstly, there may be a larger fraction of serious reactions than for most foods. Secondly, allergic reactions to snails very frequently involve asthma. This may be associated with allergy to dust mites which is involved in many cases of asthma and also in allergic reactions to snails.
Symptoms generally occur after ingestion. However, symptoms have been reported on handling or inhaling steam from cooking molluscs and asthma has been associated with workers opening mussels. These reactions have been less frequently reported and less studied than similar occupational allergy to crustacea.
Severe symptoms sometimes only occur when exercise follows shortly after eating molluscs (abalone or snails) as has also been reported for several other foods.
Who, when, how long, and how often?
Studies based of questionnaires in the USA suggest that allergy to molluscs is less frequent than allergy to crustacea by a factor of approximately 3 but that a significant number of individuals suffer adverse reactions (>50 reacting to clam from 14,948 individuals). The frequency of food allergy probably follows the regional pattern of consumption, so that allergy to molluscs may be proportionally more important in France, Spain, Hong Kong or Singapore and less frequent in the United Kingdom or Germany. Food allergies to molluscs have been reported in both children and adults and little is known about the persistence of allergy to molluscs.
Molluscs caused 5.6% and 11.7% of serious reactions in France in 2002 and 2003 and an article reported that 36% of cases of anaphylaxis at a clinic in Singapore were due to molluscs. A possible explanation could be that reactions might be attributed initially to bacterial contamination rather than food allergy so that consumption is continued.
Related foods (cross reactivity)
Information on cross reactions is imperfect because oral challenge with molluscs has rarely been reported. Thus cross-reactions are identified from clinical histories, skin tests and tests for specific IgE from sera.
Cross-reactions are found between molluscs especially within the same class (bivalves, cephalopods or gastropods). For example, in a group of patients with a history suggesting shellfish allergy, patients with a positive skin test to clam had a 0.55 (55%) probability that they have a positive skin test to scallop, whereas those with a negative result with clam had only a 0.05 (5%) probability of a positive skin test to scallop. The same study found that those testing positive to abalone had only a 25% probability of a positive skin test to scallop but a 79% probability of a positive skin test to limpet. Thus those allergic to bivalves (clams, mussels, oysters, and scallops) are likely to react to other bivalves while those reacting to gastropods (abalone, limpets, snails, winkles and whelks) are likely to react to other gastropods. One case of fatal anaphylaxis on consumption of terrestrial snails has been reported of a patient who had been diagnosed as allergic to abalone showing that the cross reactions relate to biological families (gastropods) rather than to sea food versus land animals. However, cross-reactions between the classes of molluscs are also quite common.
There is good evidence for cross reactions between molluscs and arthropods (the phylum contains insects, mites and crustacea) and two different cross-reactivities are reported. Allergy to crustacea (shrimps, lobster, crawfish, or crab) is generally due to allergy to a highly conserved muscle protein called tropomyosin. In vitro studies show that IgE antibodies (the class involved in allergy) from shrimp allergic patients also frequently bind to tropomyosins from molluscs. However, as noted above, this does not necessarily demonstrate clinical allergy. An alternative estimate come from the observation that a positive skin test with shrimp was associated with a 26%-41% probability of a positive skin test to scallop, clam, oyster, abalone or limpet. Tropomyosin is also involved in cross-reactions between insects and crustacea and it is possible that individuals with allergy to cockroaches and other arthropods might show cross-reactions with molluscs.
The second well established cross-reaction is between dust mites and gastropods such as snails and limpets. This does not seem to depend on tropomyosin as only 2/28 patients in one study showed IgE binding to tropomyosin. In this case, the cross-reaction has been confirmed by oral challenges. For example, out of 51 children with dust mite allergy, 36 showed positive skin prick tests with snail. 15 of the children who had shown a positive skin test were challenged with cooked snails and 11 reacted. This suggests that as many as 30-40% of dust mite allergic individuals might react to snails although other studies have suggested that only approximately 15% might react. Allergy to limpet has also been associated with dust mite allergy. The reactions reported or observed were also unusual in that asthma was the most frequently reaction. Thus if you are dust mite allergic, have not recently eaten snails or related shellfish but intend to try them in future, it may be prudent to undergo a skin prick test to the relevant molluscs. The effects of desensitation therapy to dust mites on the probability and severity of reactions to molluscs has provoked controversy. This may be a topic to raise with your doctor if you are considering such therapy.
No cross-reactions have been reported between molluscs and foods from fin fish, birds or mammals.
Diagnosis
Allergies to molluscs are diagnosed using the same procedures as for other food allergies. A detailed patient history is first taken. Skin and laboratory tests are then used to identify the foods likely to cause allergic reactions, which can then be eliminated from the diet. Commercially available extracts from molluscs include abalone (Haliotis spp.), blue mussel (Mytilus edulis), clam (Ruditapes spp.), octopus (Octopus vulgaris), oyster (Ostrea edulis), pacific squid (Todarodes pacificus), scallop (Pecten spp.), snail (Helix aspersa) and squid (Loligo spp.). There are some pitfalls in investigating allergy to molluscs as the identification of the species eaten may not be simple, especially if a restaurant has substituted a cheaper mollusc such as limpet for an expensive one such as abalone.
Avoidance
Avoidance is the only therapy after diagnosis of an allergy to any mollusc. Because of the high probability of cross-reaction, it is probably sensible to eliminate from the diet all molluscs unless a negative skin test suggests that a species may be safely consumed. Even in that case, the difficulty of identifying molluscs after cooking suggests that care should be taken. Care should also be taken to avoid molluscs as ingredients in soups and dishes such as dim sum. Fortunately, there are no nutritional consequences to eliminating molluscs from the diet and no substitutes are required.
Other languages
| | | | | | | | | | |
| --- | --- | --- | --- | --- | --- | --- | --- | --- | --- |
| | Molluscs | | Mollusca | | Weichtiere | | Weekdieren | | Mollusca |
| | Moluscos | | Моллюски | | Bløddyr | | Mollusca | | μαλάκια |
| | Yumuşakçalar | | Měkkýši | | Mäkkýše | | Blautdyr, Bløtdyr | | Mięczaki |
| | Moluscă | | Mehkužci | | Nilviäiset | | Blötdjur | | Mekušci |
| | Мекотели | | | | Мекотели | | Puhatestűek | | Moluski |
| | Молюски | | Moliuskai | | Limused | | Мекушци | | |
| | Lindýr | | רכיכות | | | | | | |
| | 軟體動物 | | 軟体動物 | | หอย | | رخويات | | |
| | Mollusca | | نرم‌تنان | | 연체동물 | | Thân mềm | | |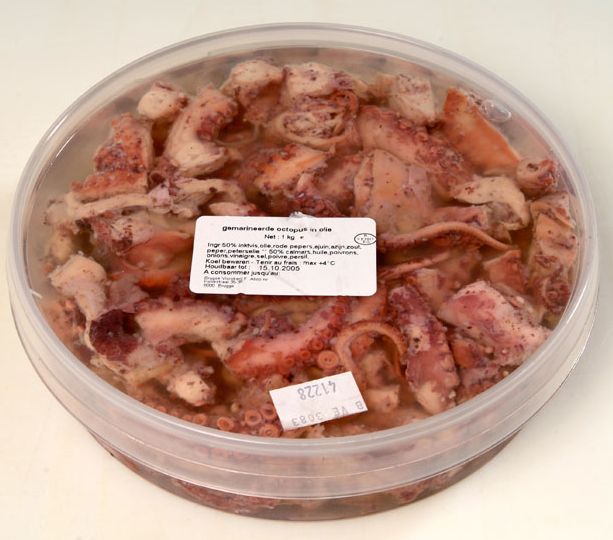 | | | | | | | | | | |
| --- | --- | --- | --- | --- | --- | --- | --- | --- | --- |
| | octopus | | poulpe | | Tintenfisch | | inktvis, octopus | | pulpo |
| | polvo | | осьминог | | blæksprutte | | polpo/piovra | | χταπόδι |
| | ahtapot | | chobotnice | | chobotnica | | blekksprut | | ośmiornica |
| | caracatiţă | | hobotnica | | mustekala | | bläckfisk | | hobotnica |
| | октопод | | oktopodi | | октопод | | polip | | astoņkājis |
| | восьминіг | | aštuonkojis | | kaheksajalgne | | | | |
| | smokkfiskur | | תמנון | | | | | | |
| | 章鱼 | | タコ | | ปลาหมึก | | الأخطبوط | | pweza |
| | cumi-cumi | | | | | | | | |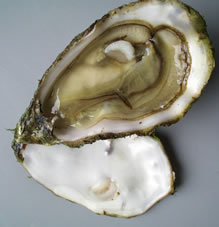 | | | | | | | | | | |
| --- | --- | --- | --- | --- | --- | --- | --- | --- | --- |
| | oyster | | huîtres | | Austern | | oesters | | ostra |
| | ostra | | устрица | | østers | | ostrica | | στρείδι |
| | istiridye | | ústřice | | ustrica | | østers | | ostryga |
| | stridie | | ostriga | | osteri | | ostron | | kamenica |
| | стрида | | guacë deti | | острига | | osztriga | | austere |
| | устриця | | austrė | | auster | | Вустрыцы | | |
| | ostra | | צדפה | | | | | | |
| | 牡蛎 | | カキ | | หอยนางรม | | المحار | | 굴 |
| | tiram | | chaza | | | | | | |